Handmade flowers cards are not only multi-purpose but they are unique, cozy and made with love. Make this cute mini watering can box card with pansies, instead of driving to store and looking for an extra special greeting card. Minimum supplies, minimum time spent. Does it sound like a great idea?
It folds flat for mailing. Cameo and Portrait compatible. The card is 9 cm tall and 11,5 cm wide when standing, and 9×12 cm when folded flat.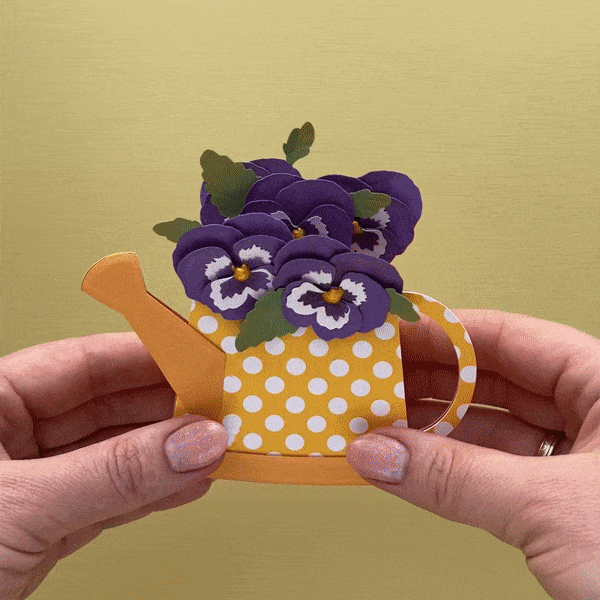 I love my PixScan mat! It's so helpful when you need to cut small pieces using paper scraps.
I don't usually remove all the parts from the mat at once. I do this gradually while assembling the flower. But if you need the PixScan mat for another cutting you can put all the pieces in piles on some tray.
Before shaping the petals I add some shading. I have Pebble Inc. chalks which I bought ages ago.
If you work a lot with paper flowers I highly recommend to purchase ball tools. They are so easy to use and the result is impressive.
Foam mount every petal if you want more dimension.
When the pansy flower is ready you can apply liquid pearls (as I did) or add a half pearl bead.
Each card layer has a tab so all you need is to adhere the pansy on it.
Insert the layers into the corresponding slots starting with layer 3.
Adhere the side panels.
Now add some adhesive on the last tab and close the box card.
Adhere the watering can on the box card base
Add two pansies on the watering can to finish the card.
Happy creating!